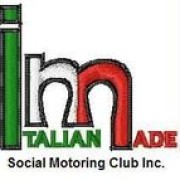 Italian Made Social Motoring Club Inc.
Lino De Iulio

0416 230 160

PO Box 623, Emu Plains, NSW, 2750
The Italian Made Social Motoring Club, (I.M.S.M.C.) was established in February 2008. The club was formed with a strong emphasis on family, friends and driving classic Italian motor cars to and from places of common interest.
The aim of our club is to maintain the presence and awareness of Italian motor cars on Australian Public Roads.
On a regular basis (I.M.S.M.C.) organises activities including:- City & Country Drives - Static Display Days - Fundraising - Breakfast & Lunch Drives - Concourse events - Weekends Away - Picnics - Restaurant & Cafe dining - Participation at Italian Festivals.
We welcome owners of Classic Italian motor cars of aged 30 years and older of all shapes, sizes and dimensions.
As we are a social club, your friends and family are more than welcome to join us in all activities. I.M.S.M.C. conforms to all current RMS legislation and is also recognised by the RMS to offer member/driver participation in the RMS's Historic Conditional Registration Scheme (HCRS), Conditional Vehicle Scheme (CVS) for any Modified Classic Italian Cars and also supports the RMS Logbook Trial - (for those memebrs interested in participating in the trial).  
I.M.S.M.C. has a full range of public liability insurance covering all financial members that participate at club events.
Executive Committee
Committee Member:

Michael Stivala

Secretary:

Lino De Iulio

President:

John Di Rocco

Treasurer/Historic Registrar:

Leo Di Rocco

Vice President:

Rose Cara

Committee Member:

Cate Stivala

Committe Member:

Oriana De Iulio
Club Sponsors
Gladesville Auto Body Works

Classic Car Repairs,Bodywork, Paint and Mechanical Repairs,Private and Insurance Work(all cars).

VRS Smash Repairs

Classic Car Repairs,Bodywork, Paint and Mechanical Repairs,Private and Insurance Work(all cars).

Prodata Pty. Ltd.

Computer consumable supplies for home, office and company. All back up supplies including CD's and DVD's.

First Creek Wines

Winery and Winemaking Services

CAMPISI FINE FOOD & DELI

An award winning Delicatessen providing the highest levels of service and quality to all customers.

SHOW TECHNOLOGY

Show Technology Australia and New Zealand offers lighting solutions for entertainment and architectural applications through a select network of partners around Australia and New Zealand.

SIDERNO PASTICCERIA - NARELLAN TOWN CENTRE

Authentic Italian cakes, gelato, desserts and coffee to dine in or take away. Special occasion cakes available to order.

PRIME REAL ESTATE

PROPERTY MANANGEMENT , REAL ESTATE RENTAL, SELLING AND LEASING.

NAPOLI EXCAVATIONS

BULK AND DETAILED EXCAVATIONS , CONCRETE WORKS.

CORPORATE AWARDS AUSTRALIA

Custom-designs Recognition & Appreciation awards Largest Range of Trophy Cups for all budgets Plaques & Honour Boards Complete Engraving Service One-off Special Pieces Sporting & Perpetual Trophies

FRANK'S PITSTOP MOTORS

We specialise in the repair and servicing of Alfa Romeo, Fiat, Abarth,Fiat Professional and Lancia motor vehicles.

HIGH PERFORMANCE

High Performance Smash Repairs is an auto body shop that offers smash repair and panel beating services for all car brands and types. Courtesy Car available . On site quoting.