1946 Mercury Mercury eight 2 door Town Sedan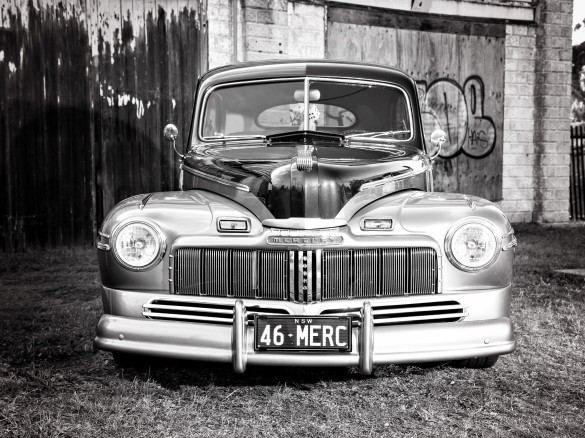 History
Freddy the Mercury
Freddy came into my world at a pivotal time some seven years ago when my life was taking a change in a different direction. He was purchased with a different color scheme of metallic blue and silver with ghost flames and moved from his then home of Emu Plains to the shores of western Lake Macquarie. In the last two years he has undergone a full bare metal restoration with new paint and some mechanical repairs. In that time he has had the good fortune to win some accolades at local car shows. Owning Freddy has given me the opportunity to make some new and wonderful friends in both the hot rod and Rock and Roll community. For people of a more technical nature Freddy's vital statistics are as follows. He is a 1946 Mercury two door town sedan. I consider Freddy very much part of my new life, almost a member of the family some might say. He is washed, maintained and driven regularly. My beautiful partner and myself relish any opportunity to put on our best 1950,s attire, polish Freddy and head off to local car shows and Nostalgia events.

Modifications
It is a 1946 Mercury two door town sedan. It is modified with a 1967 Mustang front end with rack and pinion steering. It has a 1970 Corvette independent suspension rear end and under the hood sits a 350 Chevy small block V8 motor. It has a street Dominator inlet manifold. Edelbrock 650 carburetor and chrome finish air cleaner with a Pro Comp Distributor. Block Hugger extractors into 2 1/4 dual exhausts. A chev Turbo 350 transmission and Aluminium Radiator. It is left hand drive with power steering, power windows and fixed rear windows. It has a Chrome dash and light blue upholstery with a corvette steering wheel on a tilt steering column. Color is two tone with metallic gun metal grey and pearl silver grey. Tyre's are white wall inserts. Front end -205/60/15 and rear -255/60/15. The car has 4 wheel disc brakes.
Comments
Comment on this Vehicle
Please login to comment on this Vehicle.
If you're not a Shannons Club member - Join the Club.