1967 Pontiac GTO 428 Royal Bobcat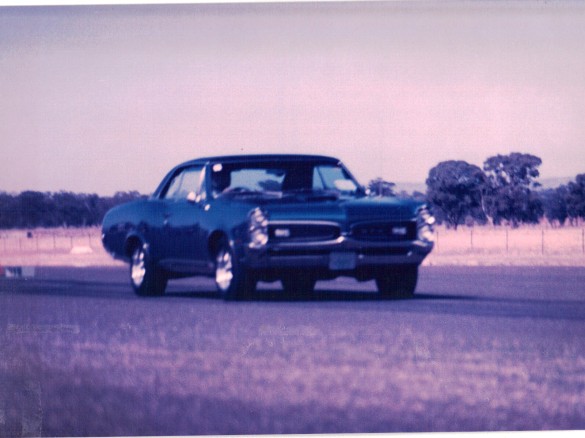 Vehicle Specs
Engine:

428ci V-8 of approx 450bhp

Transmission:

Turbo 400 3 speed Automatic

Body Style:

Coupe

Trim:

Black Leatherette

Colour:

Cyan Blue/Black Vinyl Roof.
History
Purchased in late 1980's & underwent full body/mechanical restoration over several years. Sold in early 2002 having provided 'much fun' at PCCA Nationals over the years. Fitted with following options ex-factory:
* Hurst 'Dual Gate' Gear Shifter (both manual & full automatic shift modes).
* Power boosted front Disc Brakes & standard drums rear.
* Power Assisted Steering with energy absorbing steering column.
* Integrated Air Conditioning (with Rotary Compressor in 1967)
* Retractable (lap type) front seat belts. * Locking Petrol cap.
*
Modifications
Privately imported into Australia in the early 1970's & converted to RHD at that time. During 1993 the 400ci GTO engine was replaced with a fully rebuilt (blue printed & balanced) 1967 Grand Prix 428ci motor (steel crank & 4 bolt mains) with original GTO (67 cast) cylinder heads, intake manifold & matched cast headers (all 'ported & polished'). Optional PMD "Police Special" camshaft, steel timing gears, Duplex timing chain, competition cam. followers & push rods, high capacity oil pump, Mallory 'dual points' distributor & a new Rochester 850cfm. 4 barrel carburettor were also fitted at that time. Optional Cragar 15" x 8" wheels/tyres & in-dash tachometer also added with re-rated coil springs & gas shock absorbers front & rear.
Comments
Comment on this Vehicle
Please login to comment on this Vehicle.
If you're not a Shannons Club member - Join the Club.