1978 Ford ZH Fairlane 500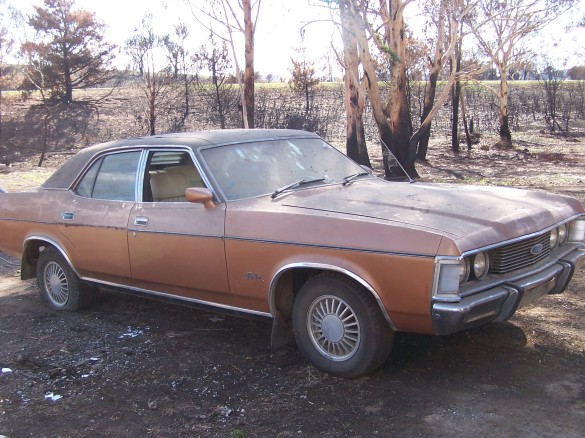 Vehicle Specs
Engine:

351 V8

Transmission:

FMX Auto

Body Style:

Sedan

Trim:

Cream

Colour:

Desert Gold / Black Vinyl Roof
History
This is my 1978 Ford ZH Fairlane 500 i rescued from the Black Satuday Bush Fires in Clonbinane near Kilmore in Victoria in February 2009.
It was in an old shed full of timber and rubbish which was the only thing on the 150 acre farm to survive
Modifications
Since i got the car i have put a new Vinyl roof on it because to original roof was torn from timber being stacked on it, replaced all the Disc Brakes , replaced the complete Front End had it Lowered with a Pedders Sports Ryder System with new Springs and Shocks, now sits 100mm off the ground also had the windows tinted and now is back on the road after being in the shed for several years.
I purchased a 2nd Bonnet and GT Shaker from ebay, should look ok once its all resprayed also i recently picked up an original set of chrome 12 slotters.
Although not a true Aussie Muscle car it will be a nice cruiser

Since i last posted i just had the auto tricked up a little with a Shift Kit put through it by Race Shift Automatics, goes heaps better now.
Comments
Comment on this Vehicle
Please login to comment on this Vehicle.
If you're not a Shannons Club member - Join the Club.