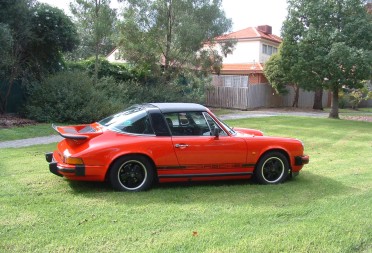 Vehicle Specs
Engine:

3.2

Transmission:

5 speed manual

Body Style:

Coupe

Trim:

Black

Colour:

Guards Red
History
Australian delivered , started off as a 2.7 Sportomatic , only had 3 prior owners , one of whom changed it to a 5 speed manual 3.2 engine and everthing else was a bit ordinary condition wise . The body is good and never had an accident .
Modifications
Apart from the engine and gearbox , i have fully reupholsterd it , new roof and fully lined the luggage compartment , fitted front and rear spoilers , fog lights , fitted secuurity and central locking , new 944 electric seats , new stereo and done the oil and fuel lines and retuned the engine and fitted new injectors etc , which gave me an extra 28 hp . Next stage is the suspension seals and service the shocks , and finally the engine to come out and the engine bay and motor to get a makeover . With the 3.2 engine and practically no weight , it flies !
More vehicles like this...