1982 HO Phase 6 XE Falcon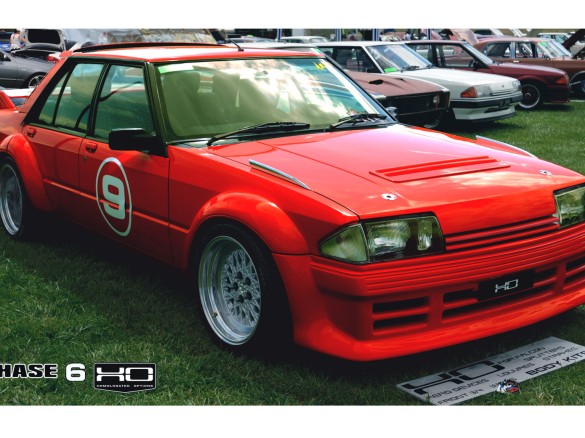 Vehicle Specs
Engine:

351 Cleveland

Transmission:

5 speed

Body Style:

Sedan

Trim:

Custom

Colour:

Periodical Red
History
Wayne Draper designed the XD and XE Falcons at Ford, then designed the Phase 5 & 6 Falcons under the HO Phase Autos banner in the early 80's (after Ford abandoned HO, Wayne bought the rights). He runs HO to this day.

HO Phase Autos (builders of the Phase 5 & 6 and Allan Moffat ED Falcon) are the original manufacturers of the Group C racing Falcons (and still going strong). This Series II Phase 6 is HO's pride and joy. What makes the Series II different from the original 82' car is this car is new underneath and can be used as a daily drive.

The Series 1 Phase 6 was altered (like the Phase 5) to fit CAMS regulations. Ford had to take off the original wing (and replaced it with Johnson's bird bath that created more drag to fit regulations).

For the Series II, Wayne has put XF mirrors and door trims on the car, which he originally intended to do (but didn't because Ford wasn't ready on the manufacturing side).

Another Wayne Draper design was the Snoflakes of the 80's. Wayne made sure some wide ones were put on this car to fill out the flares.

Hope you guys enjoy the car as much as we do.


Modifications
HO Phase 6 bodykit
Black micro suede interior
XF mirrors and door trims
Aluminium gurney and straights
Snoflakes -18x10 front, 18x13 rear
265 35 18 Kumhos on the front
335 30 18 Kumhos on the rear


Comments
Comment on this Vehicle
Please login to comment on this Vehicle.
If you're not a Shannons Club member - Join the Club.