VALIANT SAVED CHRYSLER AUSTRALIA LTD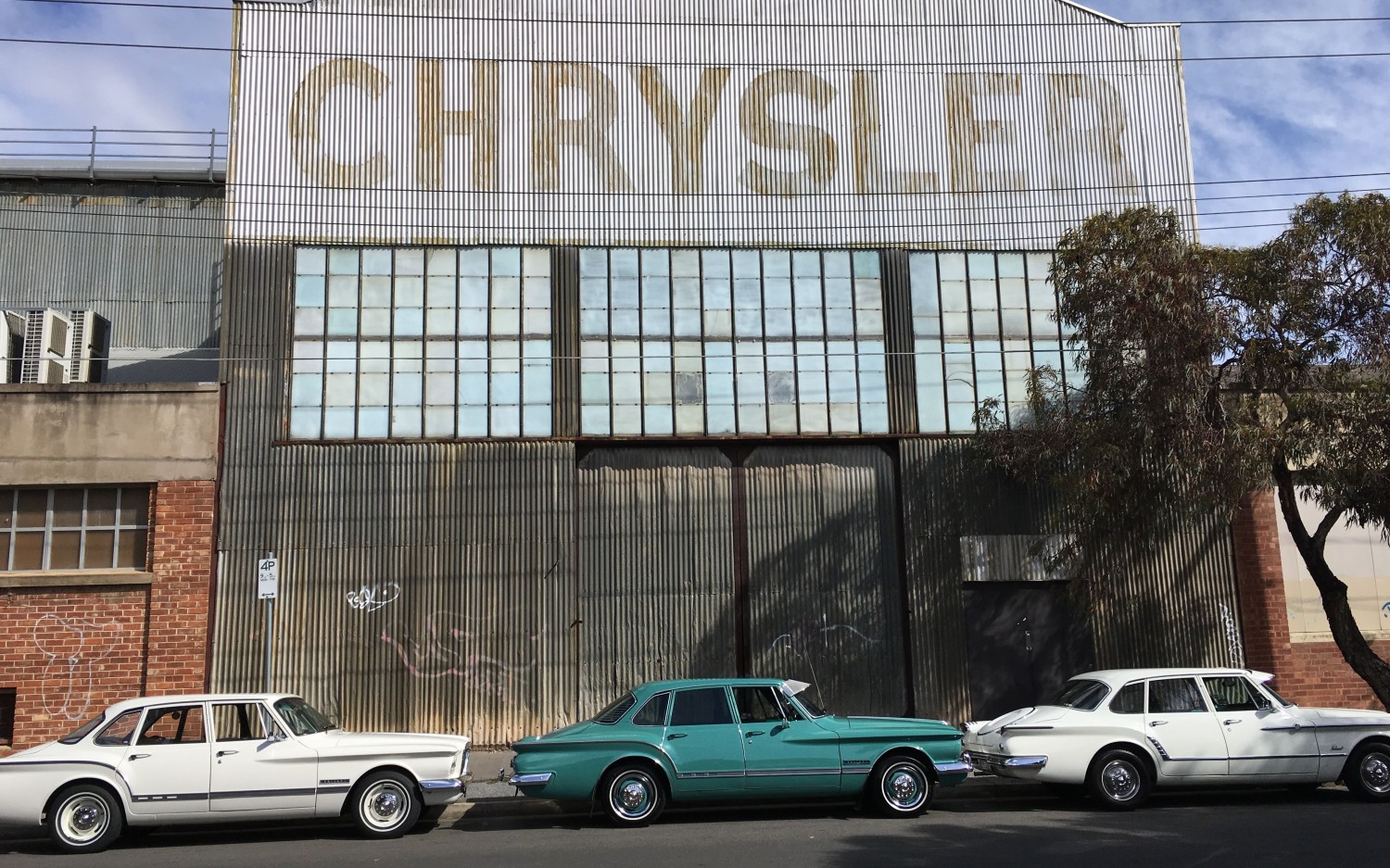 The history of Chrysler in Australia is best described as chequered.
Prior to WWII Chrysler products were sold by a company called Chrysler Dodge Ltd, under Plymouth, Dodge, De Soto and Chrysler nameplates.  Cars were assembled locally and fitted with Australian stamped bodies at a plant in Adelaide.  The company was entirely owned by Australians until 1951 when the Chrysler Corporation bought a controlling interest.  The new company, Chrysler Australia Ltd (CAL), gained some success, but its share of the Australian market was still minor.  Cars sold under the Dodge, DeSoto and Chrysler names were mostly US Plymouths fitted as right-hand drive with corresponding Dodge, DeSoto or Chrysler front end treatments.
In 1958 Chrysler Corporation bought a 30% stake in the French car company Simca, which enabled CAL to import a wide range of the smaller Simca models.  By the early 1960s the sales of the big American based cars, now called Dodges and Chryslers, were losing ground.  Even though Plymouth based, they were large by Aussie standards and the smaller car, Simca sales were also falling as CAL dropped ever further behind Holden in market share.
In the pre-war period, Chrysler had been Australia's third largest car company with 10% of total sales.  However, by the early 60s they could only claim 4% and now the 5th in size.
In the post-war period Holden had become a wholly owned subsidiary of General Motors, producing a unique all Australian car considered a compact by American standards, powered by a small, 129in3 straight six rated only at 60hp.  Introduced in 1948, it swept the Australian market and by 1950 became the top selling car comprising 50% of Australian car sales.
While Holden was given a few minor restyles and mechanical changes with the engine increasing to 138in3 in the second model, increasing the power to 75hp.  It wasn't until 1961 that Holden offered an automatic transmission.
In September 1960 Ford released its compact Falcon to Australia with the diminutive 144in3 six producing 90 hp and could be ordered with an automatic.  It made an immediate impact.  While Holden sales were up slightly, Falcon showed surprising strength and by 1962 had captured nearly 20% of the market now with the 101hp, 170in3 six.
Enter David Brown.  A native of North Carolina, he was an engineer who was sent by Chrysler to Australia in 1958 as Managing Director of CAL.  The 43 year old Brown's real job was to determine whether or not there was a future for Chrysler down under.  He had been involved in the early planning for the US Valiant and after surveying the Australian scene, determined that it would be the ideal car to compete with the essentially mid-sized market in Australia, against Holden and Falcon.
Brown quickly asked for a RHD version of the Valiant and was turned down.  Chrysler was still reeling from the mid-50s Chevy-Ford battles and had troubles at home.  There would be considerable developmental work necessary to adapt the Valiant to RHD. With the engine slanted 30° it was directly in the way of where the steering box had to go. American Valiants had the heater box on the firewall where the steering column would be and with the new alternator on that side it presented real problems.
But Brown kept after the Chrysler powers in Detroit who didn't believe the RHD conversion could be done cost effectively if at all.  He took some engineers to Highland Park and in a matter of two and a half weeks devised a simple low cost conversion.  He finally got the go-ahead for developmental work in 1961.  Some 1960 models were converted to RHD at the Windsor plant in Ontario and sent to Australia for testing.  Some of these included the 170in3 version of the slant six, which yielded both greater performance and mileage than the Holden or Falcon, but Brown wanted to make a real impression and offer something extra.  He decided to only use the larger 225in3 with 14 inch wheels as standard.
Seeing this was to be a sort of test run, only one model would be available being the base model V100 4 door sedan.  In line with Brown's desire for impact, the cars were sold with the up market V200 exterior trim and some U S options were made standard.  Valiant would be slightly longer, heavier and more expensive than Holden or Falcon, yet offered more room and modern space age styling that simply left the competition behind.
The initial R Series cars were the last 1,008 1961 models which were produced in the now defunct DeSoto Plant in Michigan.  They were then sent in CKD (completely knocked down) form to the Mile End plant in Adelaide Australia to be assembled by Australian labour.
They were partially assembled then transported to the new Tonsley Park facility to be finished off.  To achieve the RHD configuration the alternator was relocated to the other side of the engine.  The oil filter problem was solved by using an external line to a replaceable cartridge filter mounted on the RHS inner guard.  Australian law required amber rear indicators so they were rewired and combined with the reversing light using an amber lens.  Due to the lack of space, power steering was not an option however, power brakes were available.  Additional options were radio, rear speaker, seat belts etc.  A different (from the US) heater/demister centrally mounted on the firewall was optional.  In addition there were some extras unique to Australia.  Australia had a ban on tinted glass, so there was a sun visor option as well as rear venetian blinds.  Colours were very limited with no two tone combinations.
The marketing of the R Series was well planned.  While initially kept under wraps, transports full of completed cars were sent out around the country two weeks prior to the introduction and left to sit uncovered on transporters so as to draw crowds and comments.  They were officially introduced on the 18th January 1962 and the whole run of 1,008 Rs were sold out in days.
CAL had planned for this and was already turning out the new S Series Valiant at a record breaking pace.
Essentially, the S series was a face lifted R Series, notable changes were; the manual shift was moved from the floor to the column and the oil filter was moved to the front of the block via steel lines.  This delayed the oil pressure on start up.
The S was also the same configuration as the R Series with only a 4 door sedan on offer and again with V100 interior and V200 exterior.  It was released on March 1 1962, less than 2 months after the R Series and many who had ordered R Series cars ultimately received an S Series.
At this time, Chrysler operations were scattered across three plants in the Adelaide area.  The largest, Tonsley Park, had never been fully completed.  Since the sales success of the new Valiant showed it had a real future and a future for Chrysler Australia, it would be necessary for CAL to produce an all Australian car and in sufficient numbers.  Chrysler then set out to expand the Tonsley Park plant, with numbers like 50,000 cars per year being quoted.
In 1962, Valiant as well as the other Chrysler products were being assembled and painted at the Mile End plant, then transported to Tonsley Park where they were mechanically finished and interiors installed.  Such inefficient methods couldn't be continued and therefore a huge all new plant was built on the Tonsley Park site, one that could not only assemble cars but also manufacture engines and stamp out bodies as well.
Sales of the S Series were sufficient and the demand strong enough that S Series Valiants could have easily been sold for another year or more.  However in the US this body went out of production in August 1962 with stamping machines and dies changed to the new 1963 Valiant styling.  It was also necessary for the Australian Valiant to closely follow the US Valiant, in order to make use of common dies and stampings.
On the 30th of May 1963 the first Australian Valiant, the AP5, based on the US '63 Valiant was introduced.  The engines, transmissions and front sheet metal were still imported but from the windscreen back it was mostly Australian.  With each succeeding model more and more Australian, manufactured content was incorporated into the Valiant until a 95% "local content" was reach after the introduction of the Hemi 6 in 1970.
Thanks to David Brown and his vision, Chrysler Australia was able to go on to even greater success and keep a major presence for another 20 years until its sale to Mitsubishi in 1981.
This is an adaptation of an article on how the humble Valiant saved Chrysler Australia.  Versions of this story have appeared in Slant Six News and Chryco Reporter.