9th NATIONAL R & S REUNION - November 2022 - 60 YEARS DOWNUNDER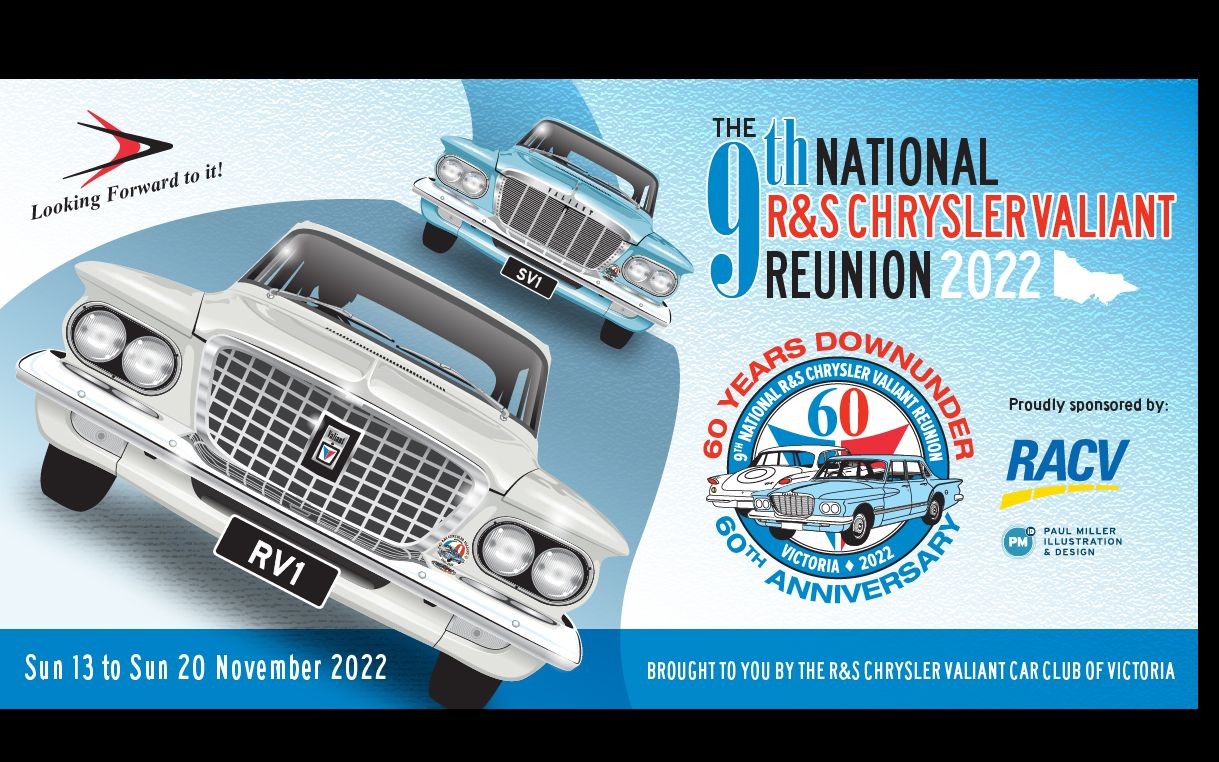 9 th National R & S Reunion
60 YEARS DOWNUNDER
November 2022
Expressions of Interest
the R & S Chrysler Valiant Car Club of Victoria would like to invite all R & S Chrysler Valiant Car owners from across Australia to participate in the 9th National Reunion; 60 Years Downunder.
Pre-Run:
Sunday 13th November- starting in Albury/Wodonga, the pre-run will travel through Beechworth, Myrtleford, Bright, up through the high country to Mt Hotham and then down to Omeo and Bruthen to a rest day in Lakes Entrance.  We will take a leisurely boat cruise to Metung before travelling through Maffra, Bairnsdale and Traralgon to arrive in Warragul on Wednesday 16th November ready to start the main run.
Main Run:
Thursday 17th November will take us to Phillip Island and its many attractions.  Friday 18th November we will turn back time to the gold rush days and visit Walhalla for a scenic train ride and possibly a tour of the gold mine.  Saturday 19th November will be a Show and Shine in Warragul and President's Dinner.  Sunday 20th November farewell breakfast.
Expression of Interest
We would like an early indication of those who would like to participate in the pre-run, main run or both, by Wednesday 30 th June.  Full itinerary and accommodation options will be announced in the coming months, and entry forms will be available once we have an indication of numbers.
INVITATION IS OPEN TO Q, R, S Series Valiants and US 60, 61 and 62 Valiants and Dodge Lancers.
Queries by phone or email:
• Cathy Jensen (Club Vice-President) – 0428 252 642 – cathryndickins@gmail.com
• Geoff Sarkies (Club Social Secretary) – 0404 689 028 – oxford8@gmail.com
• Paul Miller (Club President) – 0402 225 993 – paul@pmid.net.au
Please send expressions of interest, preferably by email, to:  Cathy Jensen (Club Vice-President) -  cathryndickins@gmail.com.