1988 Dax AC Cobra Replica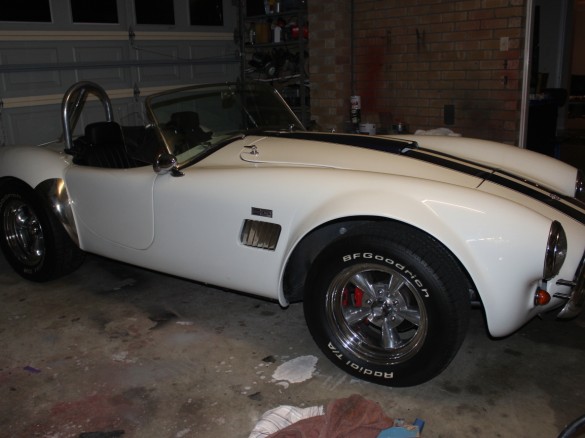 Vehicle Specs
Engine:

Boss 347 Windsor 450+HP

Transmission:

CR Top Loader 4 speed to 3.54 Jag IRS LSD

Body Style:

Convertible

Trim:

Black

Colour:

White w/ Navy stripes
History
Purchased as a previously registered but disassembled car and then performed a complete resto on body, interior and driveline.

Chassis Built by Terry Rowing of Trac Products (7 of 12) for Dax of England in the mid 80s then imported to WA and first registered here in 1988.
Modifications
Windsor Boss 302 Race Block
Forged Stroker Crank & Rods & Forged Pistons
Ford Z Heads
Rollers
CES Racing custom 2.5" dual exhaust
850DP Street HP Holley
MSD 6 Ignition, dizzy & leads
Gilmer belt drive
Canton 7Qt Sump
450+ HP
Quicktime bell/scatterguard
Top Loader 4sp Gearbox
Excedy HD Clutch
Jag HD 3.54 LSD
Rear ventilated disk upgrade
15x10 & 15x8 Dragways
Innovate telem & engine monitoring system
Koni adjustable shocks
Comments
Comment on this Vehicle
Please login to comment on this Vehicle.
If you're not a Shannons Club member - Join the Club.