1966 Ford Mustang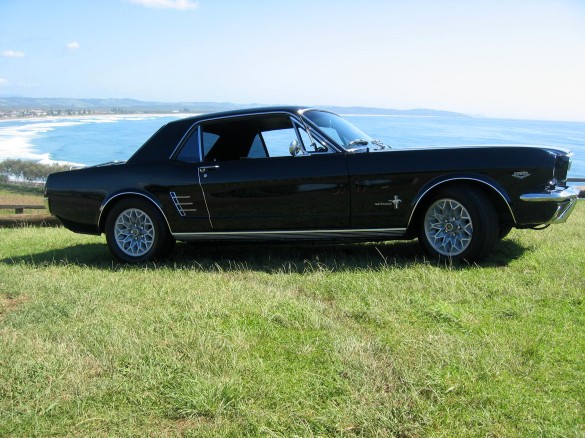 Vehicle Specs
Engine:

289ci Windsor V8

Transmission:

C4 Auto

Body Style:

Coupe

Trim:

Vinyl

Colour:

Nighthawk Black
History
Previously owned. Stunning vehicle. From what I have been told vehicle was originally imported to Australia with intention to build into a race car but importer decided body was too good so decided to sell. Purchased by a restorer/painter with an eye out for a good straight rust free car. Car body restored and painted. When purchased by me it still required a lot of sorting out mechanically so I had the diff rebuilt and had to rectify a handbrake problem due to the SVO brakes and other assorted issues. I wanted matching number so I sold it, sorry I did.
Modifications
Originally a T code 200ci six cylinder, Sautern Gold then painted Honda Nighthawk black, fitted with 289 ci V8, sub frame connectors, 4 wheel disk brakes from a 1984 SVO Mustang and a 9 inch diff. Huge Cam and Carby not suited to engine for street use. Fitted with Pontiac Firebird snow flake wheels. A stunning modified mustang.
Comments
Comment on this Vehicle
Please login to comment on this Vehicle.
If you're not a Shannons Club member - Join the Club.